Top 10 Things to do when in Bhutan
'The land of happiness', 'The Kingdom above the clouds', 'The land of the Thunder Dragon'… Bhutan has gained a few names over the years which is a pretty good indicator of how epic it truly is. Whether you've been dreaming of heading to this magical corner of the world for a while or if it has only just landed on your radar, you're in the right place. We're going to let you in on some of the absolute must do's whilst you're in Bhutan.
Hike to Tiger's Nest Monastery
Tiger's Nest Monastery (Paro Takstang) is the highlight of everyone's tour of Bhutan. The hike to Tiger's Nest is physically demanding, but oh-so worth take in the view from cliffside monestry that is 10,000 feet above sea-level! It was originally built in 1692 and still functions as a monastery today with monks living on the mountain. You can consider this a full day event to truly take in the sites and enjoy the journey!

Visit Punakha Dzong
Punakha Dzong is without a doubt, the most beautiful Dzong in Bhutan. It is the second oldest and second biggest in all of Bhutan. It is located between two rivers and you must cross a wooden bridge to access it. Interesting fact: Not one nail was used to create it… not one!
Cross a suspension bridge
After touring the Punakha Dzong, take the time to walk the Punakha Suspension Bridge which is located nearby. It is 160m (524ft) long and lined with prayer flags. The views from the bridge are spectacular and make for great photographs! If you have time, keep walking and visit the local village.
Visit the Buddha Dordenma Statue
In the hills above Thimphu, Buddha watches over the town. Take the time to visit the Buddha Dordenma, it is 169 feet tall! It is a pretty incredible sight to behold, and when you go inside you will find 125,000 smaller buddhas inside! In Thimphu, there are more Buddhas that people.
Go to a festival
Bhutan is steeped in tradition and the many festivals held throughout the country are a feast for the soul and are a photographer's dream! The masked dances are not to be missed, the traditional dress for these festivals is intricate and colorful. Make sure to take the time to ask the meaning behind the different dances. It is arguably one of the best ways to witness Bhutanese heritage and culture.
Try your hand at Archery
The national sport in Bhutan is archery, but they have been playing this sport long before it was even recognized as a sport. If you have the chance to witness an archery match, take the time to learn the rules. There are two teams (usually competing villages) and they have to hit a target that is incredibly far away. Expect a lot of drinking, food and singing (to signify when someone hits the target). It is very much a social event.
Visit a local market
Every town has a local market. Take the time to stroll through a market and get a feel for how the local grocery shop. If you are really lucky, you can even help pick out the food that you will be served for an upcoming meal. Try the dried Yak cheese. Buy some fruit. Enjoy the experience. Try something new.
Previous
Next
Eat Local
Make sure that you eat like a local at least once on your trip. Even if you have to specifically ask to go to a local restaurant. Try a local dish of Ema Datse (just make sure you ask for a milder version). The Bhutanese mild is spicier that most spicy by western standards! The food here is influenced by Chinese, Tibetan and Indian cultures with many vegetarians, so you will have lots of options if you don't eat meat.
Hike to the Fertility Temple
A short hike through fields of rice outside of Punakha will take you to path which leads to the Fertility Temple. Walking to the fertility temple is an experience you have to see to believe. The village is lined with shops selling phallic symbols covered with paintings and art of giant cartoonlike penises. The temple was built in 1499 by the Divine Madman. To this day, women come to the temple for blessings to help them conceive. In fact, you can look through many, many picture books of children that have been conceived because of blessing bestowed at the temple.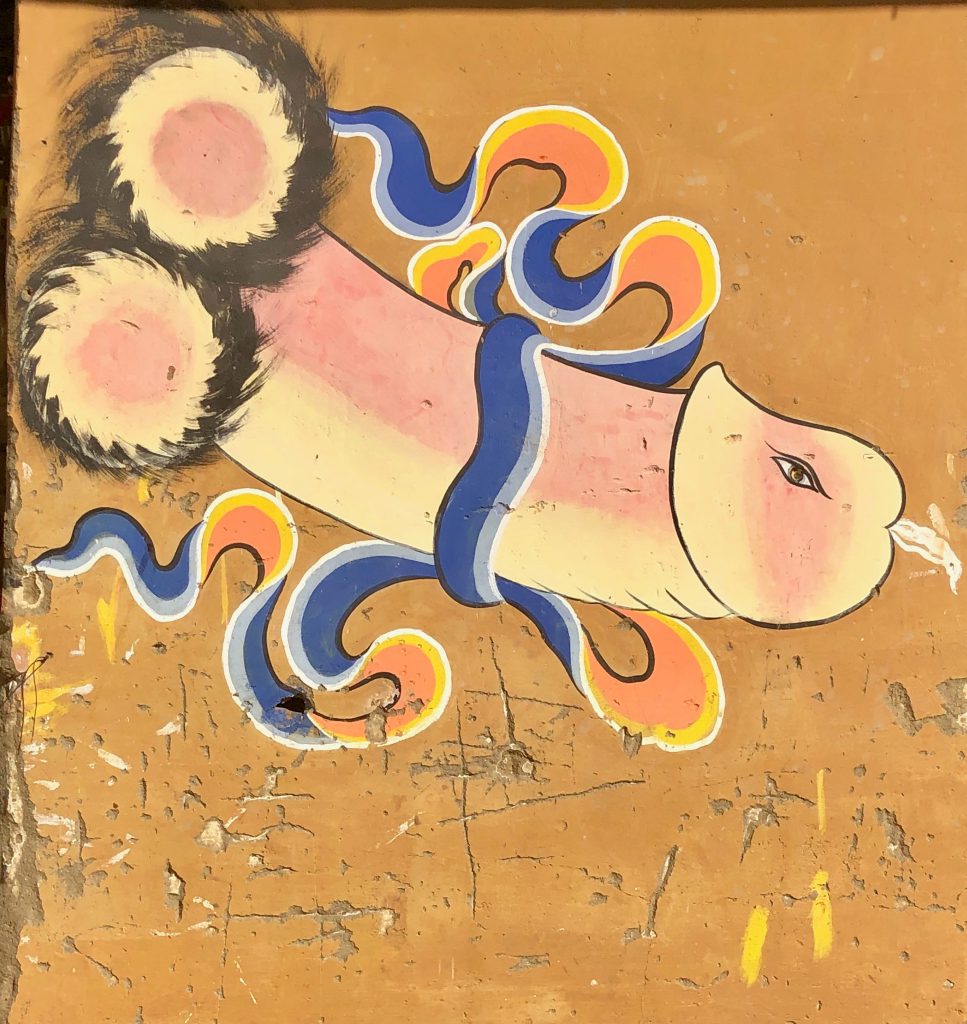 MEET THE LOCALS
What makes travel to Bhutan so special are the people. Bhutan has a happiness index that has given it the distinction as the happiest country on earth. The people of Bhutan are still excited to see travelers and enjoy talking about life in Bhutan and asking about your home country. Many of your most memorable moments will come when talking to some of the locals. Try your hand at learning a few words in Dzongkha. Kuzuzangpo – Hello Kadrin Chey – Thank you- are good ones to start with.