How Bhutan is Combating with COVID-19 Situation
On March 22, 2020, His Majesty addressed all Bhutanese, "As a little nation with a little populace, we can conquer any challenges we are confronted with, if the people and the government work together." This statement exemplifies the resilient nature of the people of Bhutan. If our beloved King, government, and general citizens had not taken quick action after the first positive case of COVID-19 was detected, the people of Bhutan could easily have been devastated by the virus.
Luckily, Bhutan has done a tremendous job in containing the virus, as all cases have been imported. We may even be considered a model nation for our readiness and response to COVID-19. The Prime Minister and Health Minister of Bhutan provide regular briefing on the situation in Bhutan and remind our people to continue to stay vigilant and to follow social distancing and hand-washing guidelines. Information is also provided through websites and social media sites. Even though Bhutan shares borders with China (to the north) and India (to the south), and both countries have been hotspots for the pandemic, there has been no local transmission of the virus and no deaths. All cases of the virus in Bhutan, to date, have been imported and been detected while the individuals have been in quarantine.
The first COVID-19 case was diagnosed in Bhutan on March 5, 2020, when a 76-year-old American tourist tested positive. Today, Bhutan has had 90 positive cases and 83 of those patients have recovered so far. There have been zero deaths in Bhutan from COVID-19. Bhutan's success is due to the policies and actions taken by Tsa Wa Sum (King, Government and People). Here are a few points I would like to share:
Faith and Believe in Religion
Religion and faith are extremely important in Bhutan, in fact, 75% of the population is Buddhist. So, when the first positive Covid-19 case was detected, the general population turned to their faith for reassurance and guidance. Religious entities, private and state, recited mantras to provide protection and prosperity, not only for Bhutanese, but for all peoples in the world. One of the most significant festivals is held at Tango Buddhist University, headed by Je Khempo, and lasts for two weeks. This festival was highly attended by Bhutanese who go to receive blessings. This program was also broadcast live throughout the country. We like to believe that our deities have shown favor to Bhutan since there has been no local transmission or death from Covid-19.

Mandatory 21-Days Quarantine and Walk in Flu Clinic center
Once Bhutan closed its borders to tourism, many Bhutanese living abroad desired to return home to Bhutan. The government of Bhutan has helped thousands of Bhutanese return home since March. However, to protect the people of Bhutan, the government instituted a mandatory 21-day quarantine for all Bhutanese who returned, even though the WHO guidance calls for a 14-day quarantine. All returning citizens are isolated and tested for COVID-19, all at the government's expense. Once individuals are released from quarantine, they are monitored and asked to use the Druk Trace app. In order to combat and detect any local transmission health ministry had established walk in public flu clinic centers in various Dzongkhangs. Clinic is open for 24 hours a day and checks general publics cough and fevers.
Royal Kidu Relief & Loan Interest Waiver
COVID-19 has wreaked havoc on the economies of all countries, and Bhutan is no exception. Those citizens working in tourism and hospitality have been hit extremely hard in Bhutan as no tourists have been allowed in the country since March. Thousands of jobs have been lost and livelihoods threatened. In Bhutan we have been blessed with monarchs who have placed paramount importance on the welfare of the people, especially those that are most vulnerable. To support the people, provide relief, and enable them to withstand their difficulties through this period, His Majesty initiated Royal Kidu. Royal Kidu provides monetary relief for those no longer able to work, similar to unemployment benefits. Initially Royal Kidu was for 3 months (April, May and June), but it has been extended for another 3 months (July, August and September). In addition to Royal Kidu, financial institutions have deferred loan repayment and interest on loans for 3 months under His Majesty's command when he addressed the nation on April 10. Whereby 50% of the interest will be compensated by the government and the remaining 50% expense will be borne by the banks. These steps were deemed necessary to provide immediate relief to businesses and individuals during this unprecedented pandemic.
Public Entertainment and Online Class for students.
To contain the potential transmission of the virus, all night clubs and sports centers have been temporarily closed. However, to keep the citizens of Bhutan engaged, the government introduced a series of online programs, National TV shows and social media campaigns. Live culture programs are broadcast daily, as are exercise programs, such as Yoga. Because schools have been closed, the government began an online teaching program for students of all ages through social media, and it is simultaneously broadcast on national television. This has posed a problem for remote villages with no TV, so the government has made free mobile SIM cards available to help reach those in remote areas. Bhutan government had decided to reopen classes from 1st July for grades 10, 12 and final year students after much consolidation with health experts.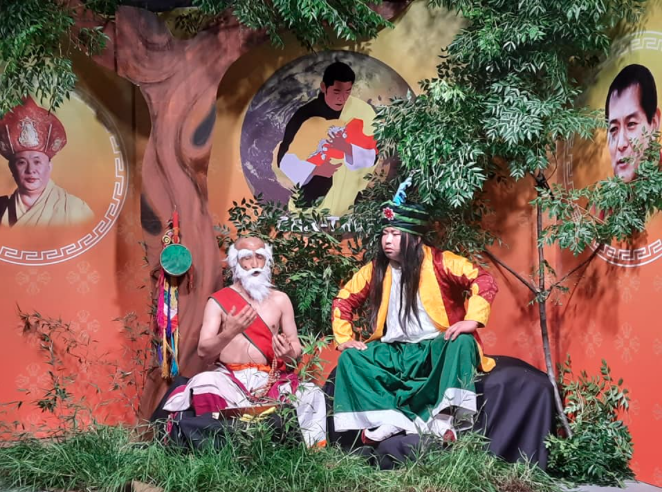 Timely Border & Social Gathering Closed
When the first COVID-19 case was detected in March, Bhutan immediately began closing its borders to try and mitigate the potential community spread of the virus. All future tourists were stopped from entering the country. All incoming Bhutanese, by land or air, have been tested for the virus and have been quarantined. The number of positive COVID cases in India has been rising at an alarming rate, increasing the chances that the virus could migrate into Bhutan through the southern border. To assist with border control, Bhutan has trained Desuung, a voluntary national guard, to patrol the border for illegal crossings. They have been deployed to the border between India and Bhutan. Also, currently all mass gatherings are strictly prohibited. Schools and entertainment hubs are also closed and many employees throughout the country are currently working shifts to ensure that social distancing is maintained.
Bhutanese Living Outside the Country
We did not forget about our citizens living outside of Bhutan during this crisis. In one of the Prime Minister's press briefing, he shared this concern of His Majesty, "we all are Bhutanese whether living in another country or within Bhutan". So, the government of Bhutan initiated a program to contact all Bhutanese citizens living in other countries (either as employees or students) to see if they wished to return home and/or to ensure they were safe. Our government has provided transportation to anyone wishing to return home to Bhutan. Several thousand citizens have returned since March. Also, under Royal command, new taskforce have been initiated in other countries to ensure the wellbeing and safety of our citizens who chose to remain in a foreign country.
Even though Bhutan is a small landlocked country, it has shown the world that it can be a hero for its quick response to the pandemic. All the credit goes to our beloved monarch who provides guidance and deep concern for his subjects' welfare. All Bhutanese are lucky to be born in Bhutan under such dynamic leadership, and personally I pray for His Majesty's long life.
Photo Courtesy: Image is taken from individual facebook and PMO facebook page.