Horse riding in Gangtey-Are you ready?
Before the pandemic, my normal was work, work, work.  Little time for family and friends as most of my day was spent settling disagreements between staff, tour guides, and drivers.  However, the pandemic has turned my world, and all of Bhutan's, upside down. Even though I now have plenty of leisure time to spend with my two sweet daughters, I still have to follow COVID-19 protocols issued by the government and, therefore, have little interaction with friends and colleagues.  So, when the opportunity came for me to travel to Gangtey to help map out a new horseback riding tour, I hastily agreed.
In mid-December, I packed my bags and embarked on a short journey to Gangtey with my boss and ranch manager.  To reach Gangtey, we traveled over the Dochula Pass to Punakha and then through Wangdue Phodrang.  The drive from Dochula to Punakha was fascinating, as the local public was preparing for the National Day of Bhutan celebration to be held on December 17 in the Punakha Dzong.  This date is important as it marks the coronation of Ugyen Wangchuck as the first Druk Gyalpo of modern Bhutan.  After a wonderful, pure Bhutanese lunch at Lobesa, we purchased fresh vegetables for our trip since we will be preparing our own meals each day.
Village Ride & 360 Degree Ride
Today, I was the last person to awaken (I am blaming it on the long drive the day before) and partake of morning tea.  After breakfast, we hurried to the field to meet the horses.  Our ranch manager/horse guide extraordinaire, Mr. Kenzang, provided a short riding lesson and then we were off on our adventure! Norbu, my chosen steed, was a perfect choice for me.
On our first day, we were lucky enough to ride near the endangered, black-necked cranes.  We were able to get pretty close to the birds, which is unusual. It was worth the day's ride just to see the cranes up close.  If you go to the information center for the black-necked cranes, you get to look through telescopes to see them, getting up close is not an option. As we continued our ride to the Lawok village, we passed through several villages spread out along the wandering clear stream that divides the valley.  Lawok village is one of the biggest settlements in Phobjikha and is not often visited by tourists.  I believe it is one of the prettiest villages in the Phobjikha zone.  It is truly picturesque, with mountains above and the stream below going through the valley.  Flocks of sheep can be found on either side of the riding trail grazing in the flats and the villagers can be found working in the fields.
The next day, I was not the last awake this morning, we planned a riding trail that is a 360-degree ride through dwarf rhododendron and pine forests to the ridgeline above the valley.  From here you see an amazing 360-degree panoramic view of the entire Gangtey valley. It was a breathtaking view that we want to share with the world through our new tour. During the first two days of our ride, we rode at a slow leisurely pace to enjoy the scenery and to plot our future trail rides for upcoming tours.
We still covered more ground than we anticipated in the two days.  I consider myself a novice rider, so trust me, you do not need the experience to take this tour.  I really enjoyed the ride, the camaraderie, and the views of the valley are next to none.  Our horses are well-trained and steady mounts and are suitable for all levels of rider, beginner through expert. By this evening, we are about halfway through the new riding tour.
Ride to Gogona & Khotokha Valley.
The next morning, we ride towards Gogona and the Khotokha Valley.  Today we picked up the pace a bit and I learned what "Are you ready?" means.  Let me tell you. When your guide says, "Are you ready?" it means that you better hold on a little tighter as we will be trotting or galloping.  I found it most convenient to hold one hand on the reins and the other on the saddle to help with balance while galloping.
Our ride begins from the ranch as we follow the trail beneath Gangtey Monastery towards the black-necked crane information center. It was really interesting trotting along an ancient trail through the pine forest to the Tsele La (3430m) pass. As we made our ascent, the view of Phobjikha Valley was spectacular. The area is a corridor for conservation such as Jigme Dorji Wangchuck National Park, Jigme Singye Wangchuck National Park, and Wangchuck Centennial National Park. After the pass, we begin our descent through juniper trees to the Chubja settlement and the Gogona temple and village.  The Gogona village is spread out over several meadows and most families living here make a living through farming. Tonight, we stayed in a local farmhouse, an experience that I highly recommend for those that want to truly experience all that Bhutan has to offer.
The next morning, we visited the Gogona community milk processing unit, which was fascinating. It was initiated in 1986 under Swiss assistance.  Once we remounted our trusty steeds, we left the village following an ancient trail through thick hemlock trees to the Shobe La pass (3475m). From this mountain pass, there is a long and wonderful descent through mystical rhododendron woodlands that transform into pine timberland with amazing undergrowth. At the end of the ride, we reached the Khothokha Village where we had a picnic lunch before returning to the Gogona village for our overnight stay. With all the hours of riding and trotting and galloping, I now feel that I am a much-advanced rider and the answer to the question "Are you ready?" is always Yes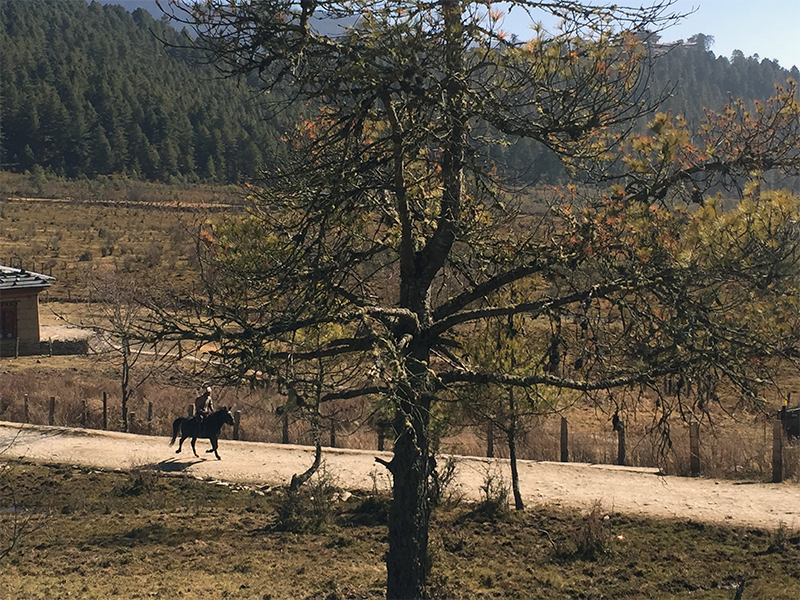 On waking the next morning, I received word from my dearest wife of rumors of an eminent lockdown in Thimphu due to COVID-19.  We felt it prudent to cut our trip short and return to Thimphu.  Rather than riding back, we drove over 2 hours to Gangtey and then straight away to Thimphu. Even though the car ride was long, I returned to Thimphu feeling rejuvenated, as I was able to connect with nature and enjoy the beauty that is always part of Bhutan's countryside.  Upon our return to Thimphu, we discovered that the rumor of a lockdown was, in truth, a fact.  For the first time Bhutan has experienced community spread from COVID-19 and, in an attempt to slow the spread of the virus, conduct contact tracing and testing, the people of Bhutan were asked to endure another, more serious lockdown.  At present, we are expected to remain in total lockdown until early January 2021.  However, we are hopeful that vaccines will prove successful and we can, once again, welcome travelers to Bhutan in 2021.
If you are interested in knowing more about riding in Gangtey, please visit our prepared itinerary for trail riding in Gangtey.  If you have any questions, please feel free to reach out to us, we will respond as soon as we can