Handpicked Experiences In Bhutan
BHUTAN, Land of the Thunder Dragon
There is a place on earth that even the most seasoned travelers consider a privilege to visit. And al-though it is voted one of the world's top travel destinations, very few make it. This is Drukyul, Bhutan, the Land of the Thunder Dragon.You cannot find a more enlightening travel destination today. Perched high on the mighty Himalayan range, the kingdom of Bhutan has defied globalization and chosen to remain a hidden paradise.
The kingdom of Bhutan today remains as one of the last unventured destinations. And Bhutan does not have traffic lights even today. That is how the Bhutanese people would like to keep it. Thus, the carefully managed tourism policy of the government based on 'High value, Low impact', in essence: 'take nothing but memories, leave nothing but footprints'.
HAPPINESS IS A PLACE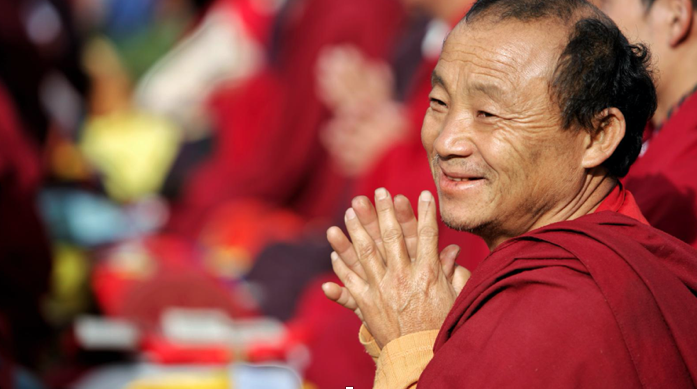 It is no surprise that the main goal in life for Bhutanese people is happiness. Even the mandate of modern Bhutanese state is Gross National Happiness. In translation, this means that eco-nomic development, a goal for much of humanity, is only a means to the real goal of happiness. Bhutan's Brand tagline 'Happiness is a place' simply assures that happiness can be found in simple things and these simple things can be found anywhere and in anything.
All endeavors by the state are geared toward creating the ena-bling conditions for the people of Bhutan to pursue happiness. The new development paradigm, termed Gross Nationals Happi-ness (GNH), is opposed to the conventional GDP model. It is based on four pillars: Balanced & equitable socioeconomic devel-opment, Conservation of the natural environment, Preservation & promotion of culture, and Promotion of good governance.
GNH is a brain child of the Fourth King of Bhutan, His Majesty Jigme Singye Wangchuck.
ABOUT BHUTAN
Area : 38,394 sq.km
Forest Coverage : 72.5%

Population : 7,41,822 (2013)

Capital : Thimphu

Local Time : 6 hours ahead of GMT

State Religion : Mahayana Buddhism

National Tree : Cypress

National Flower : Blue Poppy

National Bird : Raven

National Animal : Takin

National Sport : Archery
SEASONS
Bhutan has a season for everyone. The kingdom stretches across three climatic zones – from the sub-tropical jungles in the south, to the moderate heights of 2000-2500 meters in the centre and up to the alpine world of the towering Himalayas. Temperatures in the central valleys do not normally exceed 30°c in the summer and in the winter around 15°c during the day.
Spring (early March to mid-April) is a botanist'sdelight as rhododendrons, wild azaleas, and masses of wild flowers including the edelweiss cover the meadows like carpet. Pear and apple blossoms add a dainty touch to the valleys as their pink and white blooms add a sense of new wonder to the land.Summer (mid-April to late June) is an abundanttime of the year as flowers are in bloom and valleys are covered in green, weeping willows
sweep the banks of many of the rivers and the pine cone glisten in the sun, so full with resin they are ready to plummet to the ground.

Monsoon (late June to mid Sep) mostly confinedto the southern border region of Bhutan. Glorious sapphire skies and warm weather makes it a pleasant time to visit.

Autumn (late Sep to late Nov) casts a brightgolden glow on the vast landscape. The rice fields ripen to a golden brown under crisp blue skies. The merry pink and white of cosmos flowers dot the countryside.

Winter (late Nov until March) has its moments.The days are full of sunshine while evenings can turn chilly. Soft turfs of clouds drape lazily over mountain tops as if waiting for new life to blow it across the landscape.
HIKE TO FAMOUS TIGER'S NEST
Taktsang Lhakhang is Bhutan's most iconic landmark and religious site. The name Taktsang translates to "The Tiger's Nest". This temple is one of the most holy sites in the kingdom and clings impossibly to a sheer cliff face 900 meters above the Paro Valley.
It was first built in 1692 at a cave where Guru Rimpoche meditated in the 7th century A.D. Legend states that Guru Rimpoche flew to the site atop the back of a tigress and meditated in the cave for 3 years, 3 months, 3 days and 3 hours in order to sub-due evil demons residing within it. The cave has been considered a sacred site ever since and many famous saints have travelled to meditate in it.
Taktsang Lhakhang is located approximately 10 km north of Paro town at an altitude of 3.120 m. In order to arrive at the temple visitors must trek for around 2-3 hours through beautiful, shady pine forests. No trip to Bhutan would be complete without a visit to this remarkable heritage site.
Bhutanese Festival are rich and happy expressions of its ancient Buddhist culture. These festivals are held in all districts and most of them are in honor of Guru Rinpoche, the saint who introduced Buddhism to Bhutan in the 8th century. Tshechus take place on auspicious days in the Bhutanese calendar and lasts for several days in which a series of col-orful masked dances and rituals are performed. The Tshechus are a rich form of oral tradition where the Bhutanese pass on values, mythology and spiritual beliefs through the dance dramas. Many of the Tshechus culminate with a rare dis-play of a giant silk appliqué thangka (painting) depicting Guru Rinpoche or some other important Buddhist figures.
People's deep faith and devotion make these festivals a special occasion. At the same time, it is also an opportunity to join hundreds even, thou-sands, of Bhutanese in taking part in an important religious and social occasion that often exudes a carnival atmosphere.
HOT STONE BATH
Drawing on both Indian Ayurvedic practices and traditional medicine of 7th-century Tibet, this pampering bathing ritual, which can be experienced all over Bhutan, is not to be missed. After a long day hiking through the mountains, a relaxing soak in a wooden tub filled with a unique mix of river water, Artemisia leaves and fire-roasted river stones is the perfect way to soothe aching limbs. This blissful ritual takes place in luxurious hotels as well as cosy local farmhouse in traditional manners.
The process of a traditional Bhutanese hot stone bath is unique. It uses Menchu (medicinal water) which is nothing but fresh river water mixed with Artemisia leaves. The water is heated using river stones that are roasted on fire till they are glowing red. The temperature of the water can be in-creased by adding more heated stones into a wooden chamber via a chute. This chamber is connected to the main tub (also made of wood) which contains the water. The holes in the chamber allow the heat to be infused into the bath (so there is no danger of being burned by the hot stones) and the stones are said to release key minerals into the water which are believed to have medicinal benefits.
RAFTING & KAYAKING
The crystal-clear rivers of Bhutan are one of the kingdom's best kept open secrets. Fed by the glacial-melt of the Eastern Himalayas, six major rivers, have been scouted for rafting and Kayaking.
The pristine natural setting and the sheer variety of the rivers' courses provides a unique opportunity to explore Bhutan's beautiful wilderness. Adventurous travelers will not be disappointed by the rugged, untamed waterways of Bhutan.  The rivers are plentiful with strong currents varying between slow, gentle flows in some places and powerful, raging tor-rents can be found throughout the country.
The river courses available in Bhutan offer something for all visitors, regardless of experience: There are easy routes for beginners and hair-raising runs for the veterans. Although rafting & kayaking can be done year-round in different river courses, best time considered is March to April and November to December.
MOUNTAIN BIKING
Bhutan is a natural Mountain Biking Country with its environment, landscape, villages, valleys, mountain passes and so forth. Biking can be simply a way to stay active, cover larger areas than by walking, see remoter places and yet be with nature. You can focus on less traffic road, country back road, Farm roads and wide walking trails that leads through forests, farmland and quaint villages, affording a sneak peek into their ways of life amidst bountiful nature and savoring this experience on slow, steady pace of your bike.
For those who are looking to do serious mountain biking, the routes & places can be customized based on experience level.
BIRDING PARADISE
About 72 % of Bhutan's landscape is covered with vegetation. And these rich, diverse forest reservoirs are home to many forms of lives, the one among the many are the avifauna that thrives and pulsates in merrier ways in this eco-system. Unlike the other Himalayas nation, largely conservation efforts of this vegetation and religious belief of non-violence to an extent of looking upon as a means of reverence and divine manifestation contributes to their growths. For instance Raven & Black Neck Crane. No wonder, Bhutan is identified as one of 10th biodiversity hotspot in the world. And also identified as centre of 221 endemic bird areas. As many as 770 species of varied avifauna are recorded and many more are yet to be discovered. Many species of bird on the threshold of extinction globally are seen in Bhutan like highly revered Black Neck Crane in Phobjika Valley (Gangtey). This makes Birding in Bhutan an exciting prospect.
HORSE RIDING
Enjoy the scenic wilderness of Bhutan on horseback at the first-ever horse project in the country. Wind Horse Ranch & Riding Club is located in beautiful Tang Valley of Bumthang district. It is around 34ms (about 1.5 hrs drive) from Jakar town or Bumthang (Bathpalathang) airport. The drive is along the farm road (dirt road), passing many villages and tourists attractions.
The project began in 2010 and now the ranch is fully established on10 luscious acres of land leased from local community, sur-rounded by hills and forests. It borders Wobthang community dairy and sheep farm on one side and on the other side is a vast area of wilderness. There is a large outdoor riding arena and viewing booth for the parents and clients to watch their children or friends ride while sipping tea. The arena is overlooking the beautiful mountains and is perfectly located to access all of our wonderful trails.
This ranch does not exist for fame and fortune, but to expand the love of adventure, diversify tourism offerings in Bhutan, and in small ways contribute to the rural economy.
STAY IN TRADITIONAL BHUTANESE FARMHOUSE
Staying in a Bhutanese farmhouse offers first hand opportunity to experience real village life in Bhutan. These farmhouses are usually two-three floors, built with mud & stones without any nails. There is a living room, a shrine (prayer room), a store, bed rooms and common bathrooms.
It is a unique concept of preserving and show-casing the rustic Bhutanese lifestyle, enthralling many travelers. You will be amazed by unparalleled and warmth of the locals, which the Bhutanese have always been known for.
Spend days with the host family carrying out the daily tasks like a real Bhutanese, such as preparing local meals, putting water into the bowls around the family shrine, taking part in farm work chores and after a day of hard working, enjoy a hot stone bath to ease the body along with sip-ping 'Ara' – the local Bhutanese wine. You will understand more about Bhutanese way of life and surely end up making new friends in this country.
TREKKING
Trekking in Bhutan is enduring, timeless and true wilderness experience. Once you step off the road to start the trek, you are in complete wilderness for most part. The trails are along the age-old path used by locals to travel from village to village. There are no planes flying overhead, no roads and very few villages; in-stead there are views of snowcapped peaks and forested hill-sides stretching to eternity. Treks in Bhutan offer the opportunity to see Bhutan that is scarcely touched by the modern times. The small villages that you come across are far removed from the chaos of city-life and its inhabitants, mostly living the life of no-mads, grazing cattle in the highlands filled with wild flowers, sur-rounded by snowcapped peaks are unassuming, but friendly and welcoming. All treks climb up and down hills, passing through various vegetation zones with a great variety of trees. Most treks are in protected areas, there is a chance, albeit small, of seeing wildlife in its native habitat. Multitude of treks are on offer round the year. Treks in Bhutan can range from 02 days to epic Snow-man trek for 32 days.
ARCHERY-The NATIONAL SPORT
Declared the national sport in 1971, Archery is a highly popular game played throughout Bhutan, especially during festivals and public holidays. Two targets are placed over 100 meters apart and teams shoot from one end of the field to the other. With every hit on the target, teammates celebrate by dancing on both the ranges.
Traditional Bhutanese archery is a social event. There are usually plenty of food and drink complete with singing and dancing. Try your hands at archery in local fields and farmhouses or enjoy the play by spectating from distance in stadium or archery grounds.
ORGANIC BHUTANESE FOOD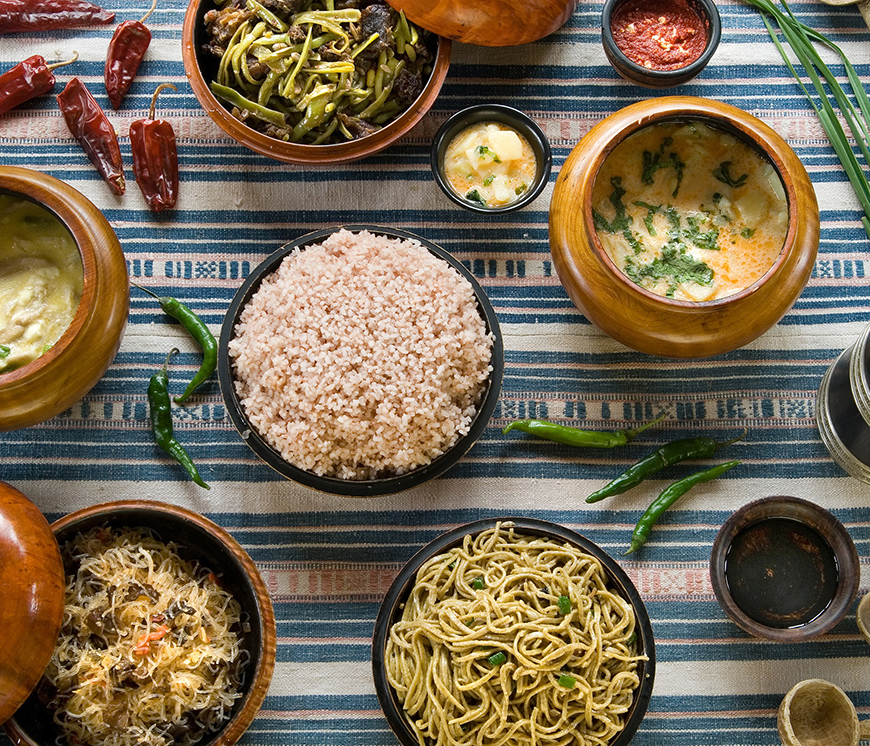 The most distinctive characteristic of Bhutanese cuisine is its spiciness. Chilis are an essential part of nearly every dish and are considered so important that most Bhutanese people would not enjoy a meal that was not spicy. Rice forms the main body of most Bhutanese meals. It is accompanied by one or two side dishes consisting of meat or vegetables. Pork, beef and chicken are the meats that are eaten most often. Vegetables commonly eaten include Spinach, pumpkins, turnips, radishes, tomatoes, river weed, onions and green beans. Grains such as rice, buck-wheat and barley are also cultivated in various regions of the country depending on the local climate.
Most popular Bhutanese dishes are; Ema Datshi, Momos, Red Rice, Phaksha Paa (pork cooked with spicy red chilis), & Jasha Maru (Spicy minced chicken & tomatoes).
DELUXE CAMPING
Outdoor camping in Bhutan is arguably one of the great ways to enhance your travel experience. Its close and romantic rendezvous with stunning landscapes, pristine and nascent environment, all permeating quaintness and more.
Deluxe camping comes with lot of amenities and heavy-duty gears to make your sleep as comfort-able as possible in the wilderness, without worrying about the weight to haul them around, as they are transported in the vehicle. Deluxe camping allows you to be near a remote village, or an idyllic lo-cation for birding, fishing, to enjoy nature or mountain biking without worrying about having to travel great distance to get back to the hotel from this location. Your Room, and your private Cook and Waiter travels with you. Although it may not be as luxurious as hotel itself, Deluxe Camping expresses and brims with comfort, style and with amenities galore that aims at making it easier to experience the ideal outdoor adventure. We truly believe that this camping experience without roughing up, will add great value to your outdoor experience.
Features: Private Large Spacious Tent (10' X 10' interior room) | Outdoor Lounge area with camp fireand chic furniture | Custom western style toilet | Private Bukhari | Attendant at your service.
It can be further upgraded, only imagination is the limit.
SERENE RIVERSIDE PICNIC
Amidst the pine trees along the edge of river, is the best spot for a peaceful private picnic lunch or dinner with family and good friends. Our cook can prepare a tailor-made three course menu while you sit back and enjoy the views of the surrounding mountain vistas & sounds of the river.
This signature experience brings a serene moment during your journey in Bhutan, where you take time to absorb the nature in its true form. Combined with a sumptuous meal, such picnic becomes one of the most memorable part of your trip. And the best part, it is completely mobile, thus can be organized in any part of the country. Just let our scouting team find the best spot, and make it customized as per your liking.
Be it your honeymoon, a small corporate team-building get together, rendezvous with friends & family, or simply enjoying the nature alone, this experience is sure to leave you mesmerized.
FLY IN BHUTANESE DRAGON – HELICOPTER RIDE
The beautiful Kingdom of Bhutan is filled with magnificent mountain sceneries as well as variety of landscape, boasting a wide array of flora and fauna which blends with its unique architecture. And one of the best ways to enjoy all this is by a helicopter ride.
Royal Bhutan Helicopter Services Ltd began commercial operations in November 2015 and has safely transported over 1000 travelers all over the country.
Helicopter Scenic Tour – the exquisite Himala-yan Experience: (30 mins. to 1.5hr – ride)
The Heli scenic tour will begin by low overflying Paro valley covered in fertile rice fields along the meandering Pa Chu which divides the valley. En-route it passes over ancient rural villages followed by some of Bhutan's most famous and prominent sights like Paro Rinpung Dzong built in the 15th Century which currently houses the administrative and monastic body of Paro. Slightly above the ridge is the Taa Dzong (National Museum) and minutes later a close up of
the world's famous, Paro Taktsang or the 'Tigers Nest' Monastery will give you a breath taking experience and a unique feature of this tour.
Breakfast at TWIN LAKES: Jomolhari Base Camp (1hr – ride)
Experience the morning sun kissing the peak of Bhutan's second highest peak, Mount Jomolhari, as you enjoy a sumptuous continental breakfast. A short helicopter ride takes you up the Paro Val-ley and over beautiful pristine forests and remote hamlets, opening to stunning panoramic views of the Himalayas along the Bhutan – Tibet border.
Your breakfast picnic spot sits adjacent to two tur-quoise lakes, above the Jomolhari Base Camp at Jangothang, offering dramatic views of the re-vered Jomolhari.
After breakfast and time permitting, explore other sacred sites nearby the base camp, including Jo-molhari Temple, meditation caves of Milarepa and Gyalwa Lorepa and the Spirit Lake of Tsher-ingma. Your return flight will also take in stunning views of Singey Dzong and a panorama of the Himalaya.