The only international airport in Bhutan, Paro International Airport (PBH) is one of four airports in the kingdom and lies just six kilometers from the center of Paro Town in the Paro Valley of Paro Dzongkhag. Surrounded by high peaks up to 5,500 meters, it is rated as one of the world's most challenging airports for landings. Only a selected number of specially trained pilots are permitted to fly the aircraft into the airport, and all flights are restricted to daytime hours only, from sunrise to sunset. Currently, only two airlines fly into Bhutan: Drukair and Bhutan Airlines. There are also domestic airports in Yonphula in eastern Bhutan, Bumthang in central Bhutan, and Gelephu in south-central Bhutan.
Flying into Paro Bhutan is typically an exciting experience because the descent into Paro Valley brings you closer to the mountain tops than most other flights in the world. Additionally, the flight between Paro and Kathmandu is exceptional as the aircraft passes over four of the five highest mountains in the world. On a clear day, you can see Mt. Everest, Lhotse, Makalu, and Kangchenjunga.
Additionally, there are limited helicopter services in Bhutan. The government plans to use the helicopter for search and rescue, air medical evacuations, firefighting, moving cargo, transport of VIPs and government officials, and potentially for tourism.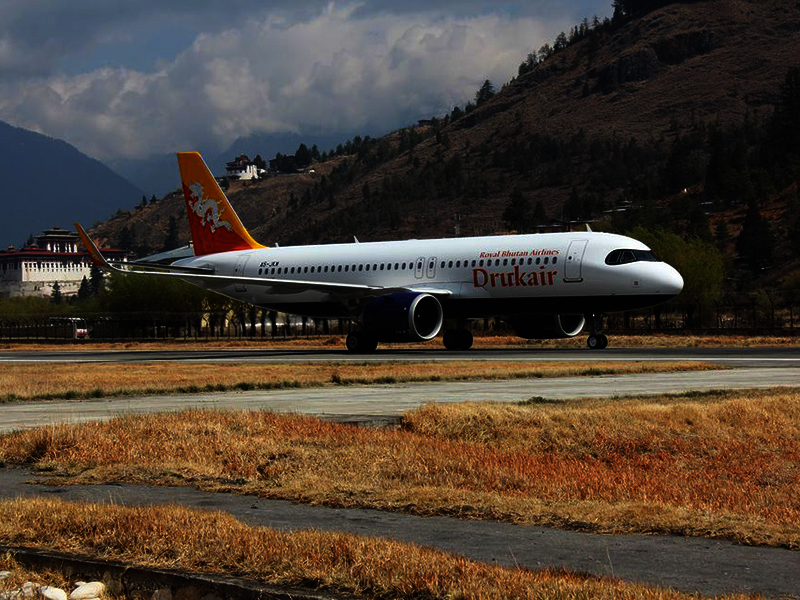 <<<<<Druk Air>>>>>
<<<<<Bhutan Airlines>>>>>
<<<<<Royal Bhutan Helicopter>>>>>