FIND YOUR BALANCE IN BHUTAN
Make Connections
Travel connects us – to our planet, to its people, and ourselves. In today's world, having the opportunity to focus on your body and soul when traveling is a must. Wellness travel was created to recharge the body and nourish the mind. With our new wellness options, Druk Experience offers the perfect balance of an awe-inspiring destination, rejuvenating activities, and exotic food experiences, helping you return home feeling even better than when you left.
Inspire Wellness
Every Druk Experience tour focuses on your wellness. You have the chance to connect with your physical side through fun, adventurous activities in picturesque natural settings. Possibilities range from nature hikes to river rafting, to horseback riding, to cycling trips across the countryside. For the less adventurous, we offer cultural tours that are less strenuous, but just as good for the body and soul.
Rejuvenate your Soul
On every tour, your journey starts with an opportunity to discuss your expectations on your tour with your personal guide. Druk Experience offers slower-paced itineraries for those that are wanting to rejuvenate their body and soul – while still experiencing Bhutan and all it has to offer. Nothing will beat your "time out of time" when you are in Bhutan. Rest, relax, enjoy our clean air, pristine landscapes, and friendly people. Feel rejuvenated at the end of each day and every hour within it, thanks to upgraded accommodations, elevated service, and private transport available on every tour.
Discover Happiness
One cannot think well, love well, or sleep well if one has not dined well. Druk Experience knows that food is more than a meal – it is a moment to be experienced among friends. Our food options are prepared with healthy, local ingredients that cater to different diets, so you can enjoy every bite. Just remember that Bhutanese food tends to be spicy and you can always ask for less spicy. Make sure to ask for opportunities to dine in local restaurants or home-stays. Or take an afternoon food tour to sample some Bhutanese cuisine.
best trips for this year as featured by Druk Experience Team
Feature Trips
CONNECT WITH LIKE MINDED TRAVELERS
Our Small Group Journeys connect you with local communities to have meaningful exchanges. All our tours are designed to provide deeper, safer, and more ethically responsible travelers. These groups are usually 4-6 guests, and never more than 8, so they are manageable, intimate, and not overwhelming when visiting local families. Our small group tours provide a combination of adventure, relaxation and authentic Bhutan. All we need now is YOU!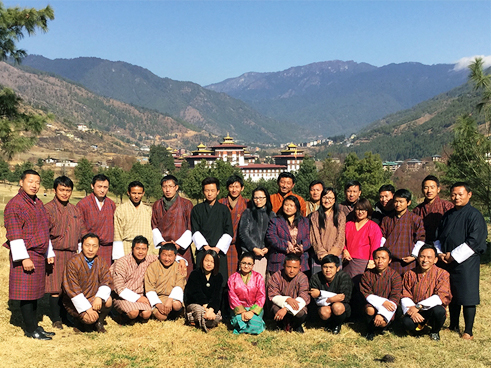 Druk Experience
Druk Experience is excited to welcome you to Bhutan, the land of the Thunder Dragon. We want to be the tour professionals you chose to show you how amazing Bhutan truly is. Our travel specialists are dedicated to working closely with you to guarantee that your tour is everything that you hoped for and more. We specialize in individualized and customized tours that give you a glimpse into the heart of Bhutan, our amazing people. Druk Experience is a licensed tour operator and we provide all services necessary for a safe and memorable journey. We handle all bookings, ticketing, and visa paperwork–so all you need to do is pack and prepare to enjoy the trip of a lifetime!
Read The Top Travel Reviews
Thank you for the reviews we are proud of
Blog
When Will Travel To Bhutan Be A Possibility? It is hoped that tourists will be welcomed back to Bhutan again in the second half of 2021 and maybe as...
Read More »
Blog
Before the pandemic, my normal was work, work, work. Little time for family and friends as most of my day was spent settling disagreements between staff, tour guides, and...
Read More »
December 31, 2020
|
admin
Blog
The Bhutanese Tsehechu festival is associated with religious ceremonies that are centuries old and are intended to transmit the dharma. Festivals are primarily organized for people to pay their...
Read More »
We are associated with the following organizations​